I've never really been into
ATC
cards, but I figured I saw a swap let me join it and see what happens. For the longest time I couldn't
figure
out what to do for it because I'm not really artsy artsy which is what I think of when I think of
ATC
cards, because if you think about it that is an artist's business card. I don't have a business card nor do I have a need for one at the moment. After much thought and deliberation I finally came up with something I think I liked, and I don't care if anyone else likes it really. My first attempt was horrible though, it looked slightly childish, here it is ...
It's a music related
ATC
card, which I love all kinds of music but really r&b and just smooth music you can dance or just relax to. I love Justin
Timberlake
his whole albums are just fabulous, but then after I made that card I started thinking, is he who represents me the most. I would have to say no, I love him but he doesn't complete me. I'm a true r&b girl at heart, I need the heartbroken songs, the love songs, the smooth songs, the songs you can get that "sexual healing" to. So I thought of my all time favorite people who I would never switch off, which consisted of Biggie, 112,
Jodeci
.. just all my favorite from the 90's because that's when music was good. So I made my
ATC
card about 112, my
fav
group and here it is...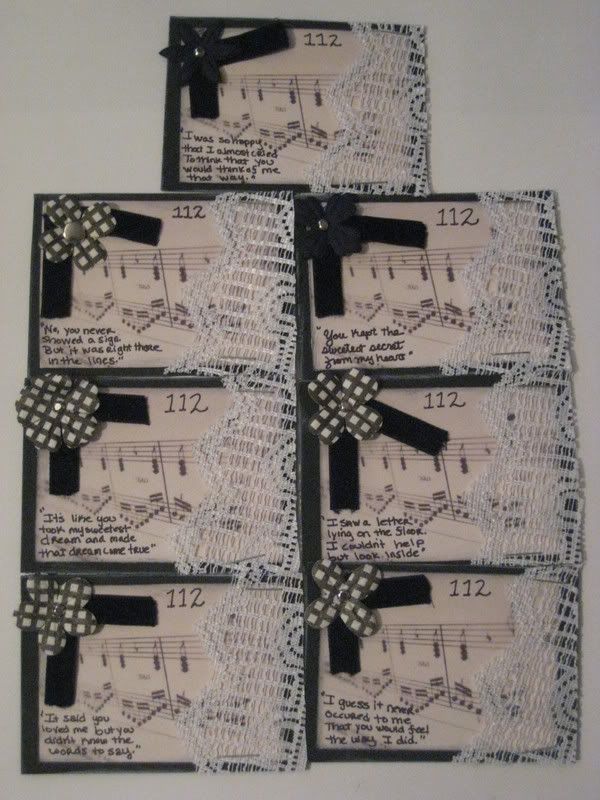 Each card has different phrases of one of their songs ... 112 - "Your Letter"
I love that song!